InnerSoul Sound Mat ™

Vibroacoustic Sound Mat - New Technology Folding Vibroacoustic Music Mat
based upon the new advanced technology transducers.
The advanced technology transducers in all of our Sound Tables
are considered by many as the best vibroacoustic transducers made.
With these advanced technology transducers the vibrations in the table are
incredibly accurate and smooth. They are highly reliable and produce very little heat,
unlike inexpensive transducers. Laying on one of these tables,
you become one with the music and vibration in a way not possible before.
The vibration is delivered so cleanly that the brain interprets the stimulus as
Sound, not Shaking. The Sound is felt from 10 hz to over 1000 hz and
a full spectrum of audio is heard.
Imagine ... would you rather be putting the vibrations into your and your clients body from that
car that you can hear and feel coming blocks away (old style transducers) ...
or from a full spectrum Symphony?
The cells of our bodies 'sing' to each other, a form of intracellular communication,
and do it most effectively in the range 100 to 1000 Hertz
(from the he work of James Gimzewski of UCLA, California).
For more thoughts on this, click here.
This folding mat is light in weight (under 30 lbs.) for easy portability
and placement upon massage tables, beds or the floor. It is covered with
Earth friendly PVC Free HeartSoft .
The Vibro Mat is very comfortable.
Regular size: 72" x 30" x 5 1/2 " - folds to 36" x 30" x 11" - 30 lbs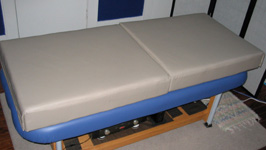 Since these mats have the new technology transducers, they also
work very well for VAHT - Vibroacoustic Harp Therapy® and Sound Therapy.

"I had been holding off on creating a Sound Mat for many years because I was not happy with the
transducers that were available for for this application in the past . Then the new advanced technology transducers became available to us. While I was testing the prototype of these new transducers, I felt that maybe the time had come for a sound mat that I would find acceptable. When I built the prototype sound mat, I was blown away by the way the vibration was so smoothly delivered throughout the mat - corner to corner and end to end..
The results are our InnerSoul Sound Mat."
- Stephen Deuel, Member of International Society for VibroAcoustics
and creator of the InnerSoul Sound Mat




Provided with the InnerSoul Sound Mat are your choice of
4 of our VAT (Vibroacoustic Therapy) Frequency Tracks.
Choose from the Pain Management, Human Body,
Muscle & Structural or Energy and Balancing Series of
VAT Frequency Tracks and
our 3 of our Vibroacoustic Music Tracks
For more examples of Vibroacoustic Music -Click Here
The Sound Mat comes with an amplifier.

Connect to your CD player, MP3 Player or computer.
Travel Bag - Custom made for your Vibro Mat.
Heavy weight nylon with water resistant finish. $120.
All of our Vibroacoustic Music Mats are custom created for You.
They are NOT mass produced.
Please allow 3-4 weeks for us to create your Sound Mat.
For Sound mats ordered in October 2018 - it will be the end of November before they are completed.
If you are a Massage Therapist,
you may wish to check out our
Transportable Sound Massage Table
Check out our Sound Tables

You can also check out the FAQs.
We use UPS or Fedex ans have been shipping globally for years.
Questions? Call us at 1 716 524 2349 or

Email: VibroMat@vibroacoustic.org
---------------------------------------------
Feedback from Owners
Stephen -- "I received the vibroacoustic music mat on Friday, set it up yesterday, and worked with my first guinea pig today. She said it was a "miracle". It was a cinch to set up. I'm using my 36-string lever harp... Thank you so much for building this."
"I'm a satisfied customer! :)"
- Anne B., (Vibro Acoustic Harp Therapist) N.H.
------------------------------------------------------------
"Stephen, you say that this Sound Mat was create with Love….we have to differ with you…..we would say that this Sound Mat is beyond being created with Love, it is Love, and we are grateful beyond words to have the opportunity to experience this intelligent Creation. THANK YOU for not only creating the most AMAZING system, but also the best customer service we've experienced to date, in every way."
- A/R
,
Hawaii
------------------------------------------------------------
"I love it and use it everyday with clients and myself. Thank you for
creating this!!!!" Aleya, Sound Healer, CA
------------------------------------------------------------
" I really like my VAT mat and VAT pillow! WOW! It is very affective for pain."
Christiane S., Ontario, Canada
------------------------------------------------------------
"Hi Stephen, After having experienced the vibroacoustic music mat for several weeks, I wanted to take a minute to give you some feedback. I feel as if a whole new world of healing is opening up for me and your Music Mat is just what the doctor SHOULD have ordered (for my fibromyalgia)! I have been using a couple of "frequency" CDs as well as a few other music CDs recommended on your site. The vibroacoustic experience on your Mat is loving, nurturing, soothing and uniquely pleasurable. It is almost like the Mat is a Living Being beaming spiritual energy into the center of my being. I always leave the experience with the sense that I have been touched by a Healing Presence whose Gift is beyond words. When I turn the Mat off and stand up the very cells in my body seem to be singing with new energy and vitality. I am treasuring the special gifts this technology offers - though technology doesn't seem to quite fit the living quality of this precious instrument you have so lovingly built! Heartful thanks to you and your family in your dedication to creating these Mats for us! In love and light, Lee" (AL)
-----------------------------------------------------------
"Hi, Stephen - ... we met at the Sound Healing Conference in Santa Fe in 2006 where you were an exhibitor and I eventually purchased a sound mat. Just thought I'd let you know that I use it very often in my work as a psychotherapist and find it extremely helpful with clients dealing with anxiety, stress, chronic pain, depression, and general "don't feel good." I don't have enough data to constitute "research" -- very low "N" -- but some good anecdotal information that leaves me convinced that the incorporation of sound healing into psychotherapy is very effective. My next step: a chair..." Anne R. Bewley, Ph.D., Licensed Clinical Mental Health Counselor, NH
------------------------------------------------------------
"The best investment that I ever made.The stress relieving properties of the sound mat allows for hours and hours of peaceful sleep as your body is completely relaxed. I use it every night. My Dad is on oxygen and can barely walk. He tried the red color cd and felt so good that he did not want to get up for the relief of pain and total relaxation that he was experiencing.
Love and Light!!" Greg, IL
------------------------------------------------------------
"Stephen, The vibroacoustic music mat, is very light, it is equal to the weight of a massage table, very easy to transport without being an overwhelming job. Also only having to use one amplifier and my IPOD works like a charm."
"I like the fact that I have the options to lay the mat on an existing massage table or lay it on the floor. "
"The mat is perfect if a person wants to travel to teach sound healing workshops, to treat clients on out calls, or to take it on vacation, nothing like lying on a porch on a balmy summer night floating on the healing frequencies of a vibro mat. I am flying to Florida in December. I will be using it as I treat some of the members of the Lemon Bay Rowing Club. One of my clients holds workshops there every year and she loves my sound table. She was thrilled to hear that I now have a sound mat to travel with and the crew will experience MFR on a Vibroacoustic Music Mat. The new transducers in the mat ares a big plus. Both the table and the mat serve a purpose and I am happy to own both. Either way you can not go wrong. Would I buy a table or a sound mat ? I would buy both because they both work for me. However I am loving the new transducer technology in the mat, so my next table will definitely be an E - Series Table, which incorporates the new technology transducers. I do feel that the vibration on the mat covers the whole body very well. In order to compare the two I tried playing the same CD on both the table and the mat and the new transducers are amazing. OH YEH , my next table will be an electric lift table because I plan on doing this until the day I take my last breath, I'll need a lift."
"FYI: My Toy Poodle was attacked by a Coyote last week. He suffered some very serious injuries including two broken scapular. I play the cat purr CD for him. The frequency of the CAT PUR aids in bone healing.. Animals love the mat, so love your animals and get them a mat." - Kathleen Tanguay, LMT, Cape Cod Myofascial Release
--------------------------------------------------------------
"Mat is great I love it. Use everyday."
David D., St. Petersburg, FL
------------------------------------------------------------------
The vibrations are powerful but not shaky, they are smooth and rolling.
Michaela, CA
-------------------------------------------------------------------
The sound mat works great. Your packages come so well packed and can easily withstand the gorilla test of shipping. My friend got an extra two hour sleep with the sound pillow that I gave him. That is what makes these things worth it. I use the mat everyday. Very comfortable. Thanks for the care that you put into the sound mats. Love and Light!!
Greg S., Illinois
------------------------------------------------------------------
I'm loving the soundmat!
Alan R., California
------------------------------------------------------------------

Disclaimer: Nothing on this web site is intended to diagnose, treat, or cure any medical condition of whatever nature, and shall not be construed as medical advice, implied or otherwise. Information on this site is intended to be for educational edification and use only.