InnerSoul Vibroacoustic Tranquility Liquid Sound Table ™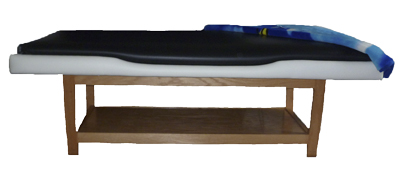 Ultimate Vibroacoustic Liquid Sound Bed for Personal and Therapeutic Treatments

Enhance Your Quality of Life
by simply laying on your Tranquility Sound Table for 20 minutes per day.
YouTube video featuring the InnerSoul Liquid Sound Table at Tournesol Wellness
located at 26 East 36th Street between Madison and Park Avenues , New York City.
InnerSoul Tranquility Liquid Sound Table™ -
The sound gently permeates the cells allowing massage from inside as well as out.
Our bodies are nearly 60% water. Water transmits the sound and vibrations efficiently to our
bodies while you float in incredible comfort on the water waves as your
body is bathed in soothing Sound and relaxing vibroacoustic vibrations.
InnerSoul Tranquility Liquid Sound Tables provide style and comfort combined with new
Advanced Technology Transducers offering the most sophisticated sound delivery system
for reducing stress, alleviating physical pain and creating a space for deep meditation.
The Advanced Technology Transducers deliver the vibration so cleanly that the brain interprets the stimulus as Sound, not Shaking and are the heart of the InnerSoul Tranquility Sound & Water Tables. The Sound & Water Table has excellent sound and full body vibration and is an excellent delivery system for Vibroacoustic Music and Vibroacoustic Therapy. It works extremely well for whole body vibrational treatments such as VAHT (Vibroacoustic Harp Therapy®) and Sound Therapy.
Great for enjoying your favorite music cds or using healing vibroacsoutic frequencies such as our
Spinal, Oxygenation, Arthro, Osteo or other frequency CDs
"...By the way, we love your Conscious Flight cd. The clients and the staff, seem to really relax with that one! We are loving our tranquil water table and we built a special room for it and I love doing energy work on it as well as my famous Himalayan salt stone massage!!!!" - Janet Lauer - Divine Massage and Sauna
"I am sorry to take so long to give you feedback about the lovely sound table you created for me... It really is remarkable and so much better than the (other manufacturer's) portable one I bought. I use your table daily, something I could not do on the portable without causing pain. The water cushion makes all the difference (I knew it would). I have included a link to my website if anyone is looking for a session (W. Newbury, MA). Gratefully,
Pam LaFrance" Cadence Musical Massage

"The one that sent me over the top was their new InnerSoul Tranquility Sound & Water Table.
It reminded me of a Samadhi Tank years ago, only much easier to use... and you stay dry. " Larry S., Hot Springs, AR
"I have not been able to lay on my back or stomach, even to sleep, for more than 5 minutes for years. My massage therapist, Trisha, A. asked me to come and try the Sound & Water Table.
She ended up being able to do body work on me for 45 min on my back and 45 min on my stomach.
I was even pain free for 3 days as well." S. R., AR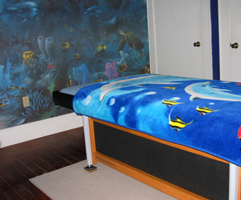 "We are proud to offer our custom built (in the US) InnerSoul Tranquility Liquid Sound Tables to you. I have been working with Vibroacoustic Therapy (VAT) for many of years and
find these Liquid Sound Beds are the best delivery system for VAT
as well as feeling music that I have ever experienced.
We have also found them to be incredibly comfortable, even for those in pain."
- Stephen Deuel, Member of International Society for VibroAcoustics
and creator of the InnerSoul Aqua Sound Table™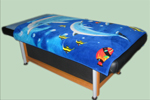 The advanced technology transducers in all of our Sound Tables
are recognized as the best vibroacoustic transducers made in the world.
With these advanced technology transducers the vibrations in the table are
incredibly accurate and smooth. They are highly reliable and produce very little heat,
unlike inexpensive transducers. Laying on one of these tables,
you become one with the music and vibration in a way not possible before.
The vibration is delivered so cleanly that the brain interprets the stimulus as
Sound, not Shaking. The Sound is felt from 5 hz to over 1000 hz and
a full spectrum of audio is heard.

The cells of our bodies 'sing' to each other, a form of intracellular communication,
and do it most effectively in the range 100 to 1000 Hertz
(from the he work of James Gimzewski of UCLA, California).
For more thoughts on this, click here.
Transducer positioning in each of our custom built tables is individually determined using the
PHI ratio of Golden Mean in combination with sound nodes in the diaphragm of the table.
Does this make a difference?
Check out the feedback from our clients.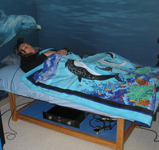 We have been testing our Liquid Sound Tables with massage therapists.
They are excellent for massage and cranio-sacral work.
We have had clients in who have not been able to lay on their back or front
without being in pain while laying on a regular massage table or their own bed.
They have been able to lay in comfort on the Tranquility Liquid Sound Table, relax and enjoy their massage.
We recomend the hydraulic lift version for massage.
Your custom created Tranquility Liquid Sound Table includes a custom Wave Table water mattress,
a Low EMF heater and a pro audio amplifier to power the Transducers.
Easy to follow set up instructions are also included.




Provided with your Table are your choice of
4 of our VAT (Vibroacoustic Therapy) Frequency CDs.
Choose from the Pain Management, Human Body,
Muscle & Structural or Energy and Balancing Series of
VAT Frequency CDs and
our Vibroacoustic Music CD "Counscious Flight"
For more examples of Vibroacoustic Music -Click Here

The setup can be as simple as plugging your mp3 player into the amplifier,
turning them on, adjusting the volume and laying down on your sound table.

It can also be adapted to use soundboards for mixing voice, instruments, music and
frequencies from cds or computers, etc. as well as integrating Light and Sound machines or
video for multi sensory experiences. We have a great deal of experience and are very
willing to share what we know so that you can accomplish
what you desire with your Sound Table.
Inside delivery adds slightly to shipping cost.
Shipping info

InnerSoul Tranquility Liquid Sound Tables Specs

Created for YOU in the USA using US grown hardwood.
Padded soft vinyl (PU) sides to contain the custom 4" liquid bladder
Shelf Base to hold the included Amplifier(s)
2 or 3 High End New Technology Transducers positioned using Sacred Geometric formula,
as we have done with all of our Sound Tables since we started creating them in the 1990's.
Our original setup with 2 transducers works very, very well
since the liquid transmits the vibrations quickly and efficiently.
After numerous requests for a 3 transducer model,
we have developed an excellent 3 transducer model as well (add $550).

Dimensions: 76"(l) x 35"(w) x 24"(h) - (Option up to 84" length - please contact us)
Optional Hydraulic Lift: 10" height adjustment (25" – 35") add $1000
Weight: Table without Water and Hydraulic Lift: 70 lbs.
Table with Hydraulic Lift: 96 lbs.
4 " custom liquid bladder adds 300 lbs. when filled
300 lbs recommended max client weight

Your choice of 4 of our VAT (Vibroacoustic Therapy) Frequency CDs.
(download a pdf list of our available VAT Frequencies)
Choose from the Pain Management, Human Body, Muscle & Structural
or Energy and Balancing Series of VAT Frequency CDs.
o Our Conscious Flight, Deep Inner Peace and Inner Alignment
Vibroacoustic Music CDs (VAM) are also included.

Please allow 4 – 6 weeks for us to create your Liquid Sound Table.
I received my Tranquility Liquid Sound Table™ about a month ago and cannot begin to express how pleased I am with this product! This table really takes the Vibroacoustic experience to a whole different level. For many years I had been using one of Stephen's portable mats on a massage table and was able to provide a good quality experience to my customers.
As a Vibroacoustic practitioner I have had the opportunity to try a wide variety of products and have always found Stephen's products to be far superior to anything else on the market. The vibro-tactile input of Stephen's products is always "clean" which improves the therapeutic benefit and enhances the overall mind/body experience. The individual care and quality workmanship Stephen offers is second to none.
A few years ago when I attended a workshop with Stephen and Deborah, I was able to try out the Tranquility Liquid Sound Table™ and was hooked. But it took a few years for it to work into the budget. Now that it has, there is no looking back!
As a Neuroplastician and Naturopath, I thoroughly appreciate the neurological and physical benefits of the more accessible vibro-tactile input that is available with the Tranquility Liquid Sound Table™. As an energy practitioner, I revel in having the water of the table as a resonant assistant to my work. It has definitely expanded what I am able to do energetically during sessions.
I would highly recommend the Tranquility Liquid Sound Table™ from Inner Soulutions. In my opinion it is the premier Vibroacoustic tool for anyone wanting to offer (or personally use) this wonderful and unique healing modality.
~Deb Wellmes, MA, ND
www.beechersynergy.com
I'm a Naturopathic Doctor practicing for 18 years. The benefits for my clients and myself have been life changing. Similar to homeopathic theory, the right vibrational frequency can be a catalyst for self-healing. Easy to use with powerful results. It sells itself with relaxation, comfort and connection to self. I love it and will thankfully be able to share the table for years to come.
Tracey Folkard BSc.,N.D- Sault Ste. Marie, ON, Canada
I set up the table at my clinic and I tried a session. I felt wonderful after the very first 30 minute session. More alive,vibrating, I feel it has increased my vital energy. All of my patients love it, it is easy to love with the experience of relaxation from vibrations. Some comments: "I am SO relaxed". "My neck pain is gone", "I am not as stiff as usual". I look forward to the long run, the health changes after several sessions. I've had it one month now.
Dr Sarah Lane, ND - Missoula MT.
I've had my liquid sound table for about a month now . It's wonderful! So much thought has gone into every detaiil--from the quality of the materials, the construction and also the packaging. It's just as you said Stephen--detailed instructions, so no problem in getting it set up. Thank you for your immediate responses to my emails!. I am now experiencing the many healing benefits of using the table on a regular basis and exploring the many ways it can help my clients in their healing journey. Thank you--it's obvious that you have a love and passion for this uniquely magnificent product.
Linda Strait. 2B Well Springfield, Mo
Hi All, I just wanted to let you all know, that I was thinking about you, because I was at Pat's new vibro-acoustic dolphin room, last Monday night and it was amazing! She has put together a great room. (Stephen your work is amazing!! Thank you! for putting this together for all of us!!) It was so relaxing, I enjoyed every minute of it. But more importantly, it healed a part of me that has been in need of healing for a long time. The vibrations I was able to feel were just beautiful. When I got home, I could feel my dog's heart beat, which was just so loving and beautiful. I just wanted to let you all know, if you are ever in NJ, to check out her room for yourself at Butterfly Life in Medford, NJ - Mary O., NJ
Check out more Feedback from our Clients

You can also check out the FAQs.
If you have questions before or after you receive your Sound Table, please call.
One thing that sets us apart is that we are experts in the field and we will also answer the
phone and discuss your questions with you. 1 716 524 2349 or

Email: info@vibroacoustic.org
We use Schenker for shipping to outside the US.
-------------------------------------------------------------

Disclaimer: Nothing on this web site is intended to diagnose, treat, or cure any medical condition of whatever nature, and shall not be construed as medical advice, implied or otherwise. Information on this site is intended to be for educational edification and use only.